Project Phoenix: Is NHS PPP about to rise from the ashes?
From   http://www.cms-lawnow.com/ealerts/2017/05/project-phoenix-is-nhs-ppp-about-to-rise-from-the-ashes?cc_lang=en  
published 12th May 2017.
(See also National Health Action Party: https://nhap.org/the-naylor-report-the-nhs-sell-off-is-being-speeded-up-our-children-are-being-robbed-of-their-inheritance/)
"Community Health Partnerships (CHP), a wholly owned Department of Health (DoH) company, currently provides public sector investment in the primary healthcare and community estate through the NHS Local Improvement Finance Trust (LIFT). The aim of CHP is to deliver savings, increase service integration and drive efficient use of the primary and community health estate. As head tenant for the £2.5bn LIFT estate, CHP is also responsible for the overall management of 305 primary and community healthcare buildings across England.
LIFT, launched in 2000, was a mechanism to attract private investment into primary care facilities, particularly in areas of social deprivation. Primary care premises had historically been provided under a variety of arrangements – private ownership by GPs, private sector leases and central NHS provision. LIFT was considered to be a new form of PPP [Private Public Partnership] that invested in new build primary care premises. It has been estimated that LIFT companies have generated more than £2.2billion worth of investment, leveraging an original investment of around £53m made by the DoH and providing an on-going return on investment to public sector shareholders including the local NHS.
In late 2015, against the backdrop of crumbling NHS estates and the publication of NHS England's five-year view (which set out a vision for wide scale transformation and new ways of working across the NHS), CHP were asked by its shareholder, DoH, to investigate and develop thinking around how a future new PPP model could be deployed to meet national strategic estate management objectives, codename: Project Phoenix.
The DoH objectives in developing Project Phoenix were to:
increase the pace of delivery of estates transformation across the healthcare estate and provide

solutions for a capital constrained system

;

provide a national approach to deliver schemes across the full range of providers to complement other approaches;

provide innovative solutions to meet identified needs arising from NHS England's five-year view;

demonstrate Value for Money and provide financially sustainable solutions for the local healthcare economy.
A project board including representatives from stakeholders including DoH, NHS England, NHS Improvement, CHP and NHS Property Services was formed to oversee the model to ensure that it would meet future needs. Extensive stakeholder engagement also took place with commissioners, providers, private sector partners, advisors and the debt market [financiers]. External support was provided by PWC.
Following this consultation, the DoH preferred option is to adopt a PPP which could build on the success of the existing LIFT programme. The aim is to ensure the right commercial arrangements to attract private sector bidders and private capital and it is hoped that this will lead to a transformation of existing estates, not just new build. One of the main challenges for the new PPP will be the interface with existing LIFT companies.
A Business Case has been submitted to the DoH for approval (although this is now on hold until after the election), following which Treasury approval will be sought. The business case proposes 6 regional PPPs which have been been divided up as follows:
North East

North West

East Midlands

West Midlands

South East

South West
Project Phoenix is currently targeting the issuing of the first OJEU Notices [European tenders] in late June 2017, with the first PPPs going live later in 2017, which is a very ambitious timetable. The current plan is to use one procurement timeline to appoint all six partners for the programme. Given that it is estimated by industry commentators that this new PPP will be worth £3bn-5bn, this is one bird we will all be watching."
[Bold and underline added]
This is published on the website of CMS Legal Services, a partnership with more than 1000 partners and a strong real estate department. This article provides authoritative corroboration of an article in today's Guardian: https://www.theguardian.com/society/2017/jun/16/most-of-central-london-hospital-to-be-sold-off-secret-plans-reveal.
The final paragraph in this is:
"The Health Service Journal disclosed last week that the Department of Health was preparing to create six regional public/private partnerships covering all of England that would oversee such sales. The plan, codenamed Project Phoenix, would see the proceeds from asset sales being shared between NHS organisations and private firms. Under the plan, London and the south-east would comprise one giant, and very valuable, area."
Let Imperial College Healthcare NHS Trust, the London North West Healthcare NHS Trust and the Collaboration of NW London CCGs deny now that they plan to sell off "surplus" land - however that is defined!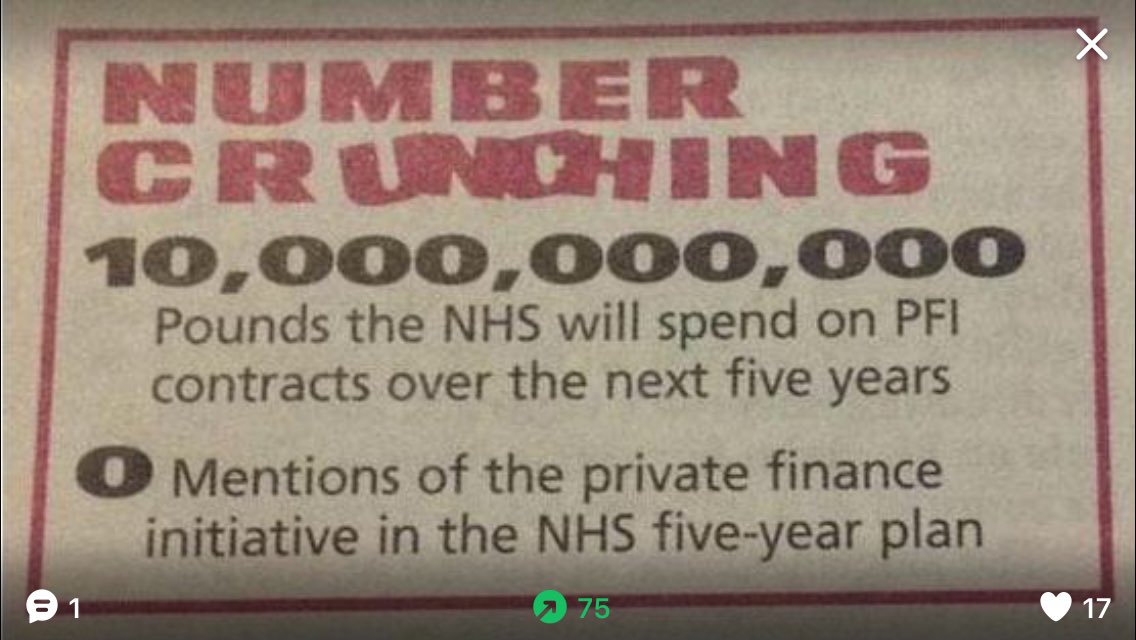 (from: "Private Eye")